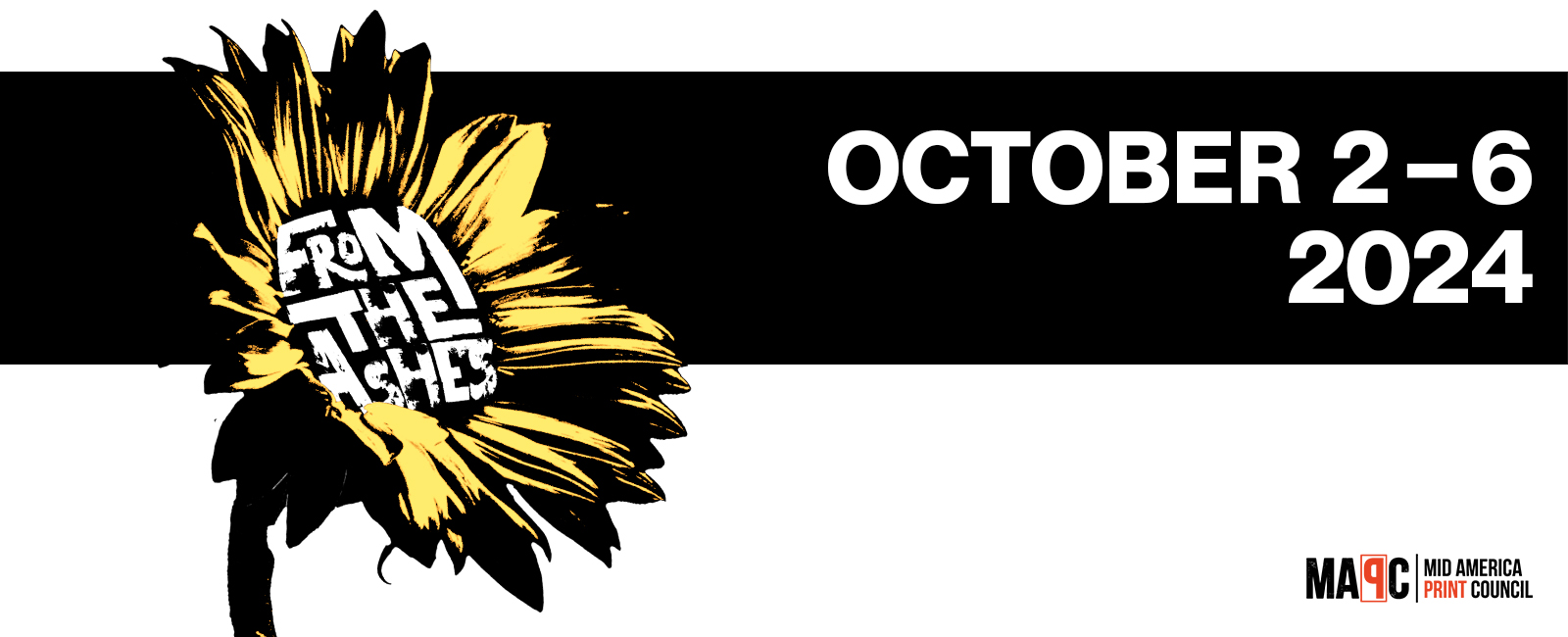 From the Ashes:
Printmaking, Preservation, and Renewal
2024 Mid America Print Council Biennial Conference
October 2-6.2024 at Kansas State University, Manhattan, KS


Printmakers have always had a unique and cooperative relationship with the natural environment through ecotechnology. Our materials and processes connect us to the earth. We adapt and transform natural resources and combine them with the technologies of our time to express ourselves visually. 64,000 years ago, we used hollow bones to spit ash between our fingers and onto the walls of caves. Since then, we've quarried limestone, hammered copper, milled wood, and stretched silk to deliver our creative visions. Printmakers are always at the forefront of artistic innovation. We are a bridge between the arts and sciences, the natural and industrial worlds, the production and reproduction of the creative image.

MAPC 2024 From The Ashes: Printmaking, Preservation, and Renewal will explore the relationship between printmakers and the natural environment. This conference will showcase those who draw upon this connection to challenge convention, preserve aspects of tradition, and define printmaking for the future: the artists, innovators, scientists, experimenters, curators, critics, educators, students, and professionals who are driven to make a difference. Topics for exploration could include the development of green printmaking technologies; research on and preservation or revival of traditional eco-friendly printing techniques; exploration of organic materials and bio- based chemicals; usage of printmaking to investigate, reflect upon, and expose environmental issues and concerns; and physical or conceptual interfacing with the environment in the creation and production of prints.
Controlled burn, Konza Prairie, Manhattan, KS.
Sunset on the Konza Prairie, Manhattan KS.